Jerry Lanning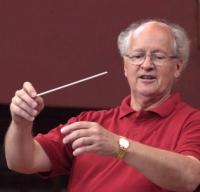 Jerry Lanning was born in Dorset and studied at Southampton University and the Guildhall School of Music & Drama, principally with Patric Standford, Peter Wishart and Geraldine Peppin. He spent much of his final year at the Guildhall writing and conducting in the School's theatre. He was vice president of the Contemporary Music Society and received the Lady Mayoress's Prize for his all round contribution to the School.
On leaving the Guildhall he was awarded a City of London scholarship to the Mermaid Theatre under Bernard Miles. He spent about ten years in the theatre and in television as an arranger and musical director, working on a dozen or more musicals including the West End productions of 'Kismet' and 'Bar Mitzvah Boy' and also from time to time assisting Ronnie Hazlehurst at the BBC TV Centre. During this period he also furthered his conducting studies with George Hurst and Lawrence Leonard.
He began arranging while still at school, and has written for almost all instrumental combinations from voice and harp to symphony orchestra, and for artists as diverse as Billy Connolly and Pavarotti. His scores have been performed by many of the London orchestras. He has several hundred publications in print, notably the Middle Eight MUSIC KIT school ensemble arrangements, the CLASSIC EXPERIENCE series for Cramer and the MAKING THE GRADE series for Chester, and has contributed to hundreds more.
His commercial work has been extremely varied. He has conducted in many of London's leading studios, such as Abbey Road 1 (where Elgar conducted the first recording), Abbey Road 2 (the Beatles' studio), CTS, Audio International, Maida Vale Studios and the Golders Green Hippodrome, and for several years he arranged for and conducted the late lamented BBC Radio Orchestra and wrote and conducted for the world-famous Readers' Digest compilations.
He is currently a regular guest conductor with a number of orchestras. At the Charterhouse Summer School (now CSSM) he directs the Symphonic Wind Band and the wind chamber ensembles, and also works from time to time with the Maidenhead and Bisham Concert Bands. He regularly conducts large wind chamber music workshops in the Sussex/Kent area.