John Lubbock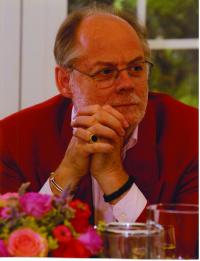 John Lubbock is well known as the founder and conductor of the Orchestra of St John's. He began his musical life as a chorister at St George's Chapel Windsor Castle and later, having studied singing at the Royal Academy of Music, went on to sing with the John Alldis choir, was a founder member of the London Symphony Chorus and was a member of the Swingle Singers.

John founded his orchestra in 1967, whilst still a student at the Royal Academy of Music, with the aim of building an orchestra that would serve the community and not just be part of the 'music scene'.. The community bias has been the main drive behind his tireless enthusiasm and life-long commitment to making the highest quality music making available to those who might otherwise have had little or no musical experience. He has single-handedly gathered around him a group of distinguished musicians who are not only outstanding performers but who share his ethos of bringing music to people of all ages and from all walks of life.
Besides the orchestra's public concerts John and his players give around 50 concerts a year to autistic children and others with learning difficulties through his charity 'Music for Autism'. They have also, over the last three years developed a series of concerts for people with Dementia.

In 1999 John received an Honorary Fellowship from the Royal Academy of Music.