Jonathan Timms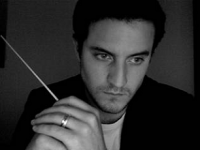 Jonathan Timms was born in Oxford in 1985. He studied music at the University of York before doing a Masters degree in conducting. He was principal conductor of the York Sinfonietta from 2006–2007 and a frequent guest conductor with the Chimera Ensemble, a prestigious contemporary music group at the university. In July 2007 he conducted the first performance of Antigone Variations, an important new work for large chamber orchestra by the composer Helen Roe.
In 2008 he was a participant on the internationally acclaimed London Conducting Workshop at the Royal College of Music, where he studied under Neil Thomson and John Farrer. He has also conducted the Arnold Schoenberg Chamber Orchestra, the University of York Symphony Orchestra, the New Professionals and as guest conductor both the Burford Symphony Orchestra and the Oxford Radcliffe Orchestra.
Jonny lives in London and teaches music at Chadwell Heath Academy. Since 2014 he has been involved in the Lister Community Orchestra's 'Mahler in a day' project, which aims to play all the Mahler symphonies over the next few years, rehearsing through the day and ending with an evening public workshop/concert. So far he has conducted the 9th and the 6th.