Joshua Asokan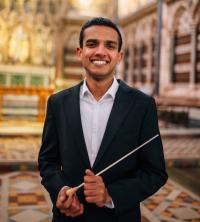 Conductor and pianist Joshua Asokan has performed internationally, conducting orchestras in venues across the UK, Sri Lanka, Italy, Estonia, the Czech Republic, the United States, and Kenya. He won the Oxford Philharmonic Concerto Competition in 2018 and has performed piano concertos by Scriabin, Grieg, Rachmaninov, and Mendelssohn.
Joshua read Music at St Anne's College, Oxford where he was one of the university's inaugural conducting scholars studying with John Traill. Conducting both professional and community orchestras, he has been mentored by conductors including Benjamin Zander, Kenneth Kiesler, Sasha Mäkilä, James Ross, and Gregory Rose. Joshua took his Masters degree in piano with Graham Caskie at the Royal Welsh College of Music and Drama. He won the annual Gilbert Memorial Piano Prize for 2021.
Joshua currently works in immigration law whilst running a venture called 'the immigration conversation' (the icon) to help young people in the UK engage with immigration policy. He is passionate about bringing together his love for music and social justice through performances in aid of vulnerable migrants. Josh also enjoys spending time working with community orchestras and teaching music to people of all ages.