Martin Quinn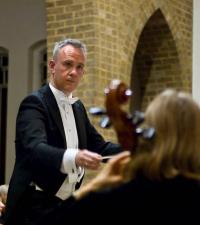 Martin studied singing at the Royal Northern College of Music with Anthony Roden. He combines a busy teaching, conducting and performing career. After ten years as vocal tutor at Sibford School, and more than 20 years as a professional singer, Martin now focusses on his Musical Director responsibilities, as well as teaching privately from home.
Martin has been Musical Director with the Warriner Choral Society since 2004. Under his guidance the choir has doubled in size, pulling in singers from across five counties.
Martin conducts a number of other local choirs. He has been Musical Director of Bicester Choral & Operatic Society since May 2012, having previously held the role from May 1999 until January 2002. He founded local chamber choir Akeman Voices in 1999 to fulfil a desire to present high quality, intimate, performances of renaissance and baroque music, mainly in a capella style.
From November 2010 until July 2012 Martin was engaged as Joint Musical Director with Banbury Choral Society. He acted as Chorus Master at Stowe Opera from 2002 until 2013 and, from Nov 2010 until July 2012, Martin was Musical Director for the Deddington Festival "Come and Sing" workshops/performance days, guiding singers through works including Carl Orff's Carmina Burana, a concert performance of The Mikado, and Vivaldi's Gloria. More recently Martin has also turned his hand to Stage Management, acting as ASM for Swansea City opera's 2016 tour of La Bohème, and earlier this year for their production of Delibes' Lakmé.