Tom Horn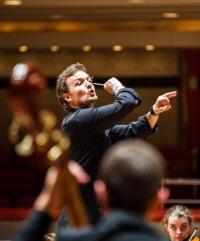 Tom started playing the violin at the age of four and gained experience with many youth and amateur orchestras in Kent, Guernsey and London. It was leading the London Schools Symphony Orchestra and studying under such conductors as Thomas Sanderling and Leif Segerstam that he realised his passion for the art of conducting.
Studying Music with Acoustics at Southampton University he took every opportunity to gain experience; becoming Leader and Assistant Conductor of both the Symphony Orchestra and the Sinfonietta and setting up his own Concerto Orchestra to conduct. He has studied under Peter Stark, Richard Dickens, Peter Ash, Robin Browning, had a masterclass with Philip Ellis on Beethoven's 5th Symphony, competed in the Cadaques International Conducting Competition and studied with Rodolfo Saglimbeni, Denise Ham and Toby Purser on the George Hurst Conductors' Course at the Sherborne (formerly Canford) Summer Music School.
After graduating he became the conductor of the Aylesbury Youth Orchestra and has performed regularly at the 'Music For Youth' finals in Birmingham Symphony Hall. He has held the position of Leader and Assistant conductor of the Haslemere Music Society for 8 years and has had the opportunity to perform and conduct major symphonic & operatic works. In 2006 he founded the Charity Symphony Orchestra which continues to raise money for various charities, the latest earlier this year being a Beethovathon (symphonies 1-9) for Comic Relief, a second instalment to the Haydathon (all 104!!) a few years ago.
In September 2013, Tom worked as a Guest Conductor with the Surrey County Youth Orchestra and had the opportunity to have a workshop with Freddie Kempf and the Royal Philharmonic Orchestra.  He has also had engagements with the St. Albans Symphony Orchestra, Welwyn Garden City Symphony & Chorus, Buckingham Chamber Orchestra, Sidcup Symphony Orchestra, Bridgenorth Symphonia, London Repertoire Orchestra, Woking Chamber Orchestra and Didcot & Wallingford Symphony Orchestra.
Tom has just been appointed Musical Director of the Buckinghamshire County Youth Orchestra and is looking forward to performing in the Royal Albert Hall and touring Budapest, and is delighted to have been announced as the new Musical Director of the Pelly Concert Orchestra in Farnborough.  He recently set up a new Orchestra in his home town of Marlow which is growing in strength and started working towards another Royal Albert Hall concert with the High Wycombe Youth Orchestra. He is really excited about working as a Guest Conductor for the Trinity Camerata.