Adelia Myslov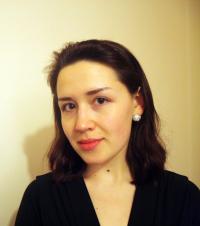 Adelia Myslov was born in 1989 in St Petersburg, Russia, soon moving to England with her family, where she attended the Yehudi Menuhin School and Purcell School of Music, studying violin with Natasha Boyarsky and Felix Andrievsky. She completed her Bachelor of Music at the Royal College of Music, and graduated with a Distinction in Masters of Performance from the RCM with Itzhak Rashkovsky (violin) and Adrian Butterfield (baroque violin). During her studies she received an Orpheus scholarship and was awarded an RCM Marjorie and Dorothy Whyte Memorial Fund upon graduating. She was sponsored throughout her school and college years by the London J & A Beares firm who lent her very fine violins on which to play; she now plays on an Italian violin by Lorenzo Storioni, kindly lent anonymously through Beare's International Violin Society.
Adelia has given solo performances in the Queen Elizabeth Hall, Wigmore Hall, Royal Festival Hall, Fairfield Halls and 10 Downing Street, and has toured France, Spain, Italy and Germany. She won the first prize in North London's International Solo Bach Competition (2009), first prize in the string section of Tunbridge Wells International Competition, and the prize for 'Best interpretation of a Hungarian piece' in the Carl Flesch competition in Hungary. She is the recipient of numerous awards and scholarships including the Manoug Parikian award at the age of fourteen, Philharmonia MMSF awards and the Countess of Munster scholarship twice in 2011 and 2012. Adelia has played concertos by Elgar, Prokofiev, Mendelssohn, Bruch and Vivaldi with orchestras across England, and has participated in masterclasses with legendary violinists Ida Haendal, Yehudi Menuhin, Edward Grach and Pinchas Zuckerman. Adelia was one of the six Selected Artists in Making Music's 2013-2014 scheme, and entered the Countess of Munster Recital Scheme.
Recent engagements include recitals at Kimbolton Castle and Saffron Walden; her acclaimed recital series 'Mortal Man; Immortal Dreams' with pianist Craig White; Elgar violin concerto with the Petersfield Orchestra, and Brahms concerto with the Richmondshire Orchestra. Future engagements include St Martin in the Fields London and the Menuhin Hall.