Alexandra Lomeiko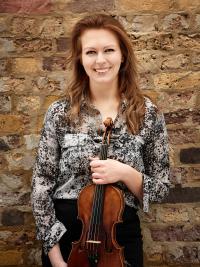 Alexandra Lomeiko was born in 1991. A graduate of the Royal College of Music and Guildhall School of Music and Drama, she is based in London where she has established herself as one of the most talented and versatile musicians her age, winning prizes in various competitions, being broadcast on BBC Radio 3 on numerous occasions and performing extensively as a soloist, chamber and orchestral musician both in the UK and abroad.
Alex began violin lessons at the age of 5 in Christchurch, New Zealand. During the following years she won many awards and prizes around New Zealand, and in 2006 came to London to study at the Purcell School of Music. She performs regularly throughout the UK as a recitalist and soloist through the Countess of Munster Recital Scheme with her duo partners, pianists Gamal Khamis and Antonina Suhanova. Alex is also a selected artist for Making Music.
Alex has also performed extensively throughout Europe and internationally in many countries, including Brazil, Uruguay, Chile, Argentina, China, South Korea, Russia, Israel and Singapore.
Alex performs on a violin made by Francesco Maurizi of Appignano, c.1850.