Eleanor Corr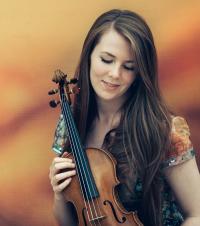 Eleanor is the winner of the Royal Overseas League Annual Music Competition 2020, leader of English Touring Opera and a Philip and Dorothy Green Young Artist. She has recorded Stravinsky's L'Histoire du Soldat for Linn Records and performed at Royal Albert Hall Elgar Room, St. Martin-in-the-Fields and Oslo Chamber Music Festival.
This season she is recording Schnittke's Concerto Grosso No. 3 for Sky Arts at Abbey Road with Charles Hazlewood and Paraorchestra, performing concertos by Mendelssohn, Bruch, Kabalevsky, Mozart, Ravel and Sibelius with orchestras across the UK, and makes her WDR debut with Pocket Sinfonia, her award-winning flute, cello, violin and piano/fortepiano quartet who have performed at REMA European Early Music Summit, Brighton Early Music Festival and the National Centre for Early Music.
Eleanor has worked as an orchestral mentor at the Royal Academy of Music, working closely with the string principals as a mentor, and taking first violin sectionals.
Her violin is generously loaned to her by the Harrison Frank Foundation.