Eloisa-Fleur Thom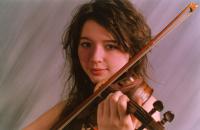 Eloisa-Fleur Thom currently studies with Maurice Hasson at the Royal Academy of Music. She was awarded an ABRSM scholarship for the duration of her undergraduate course. At RAM, Eloisa-Fleur has been awarded the John Waterhouse Prize 2007, the Amadeus Scholarship 2008 and the Ayling Academic Prize 2009.
Before beginning her undergraduate studies, Eloisa-Fleur attended the junior department of RAM where she gained first place in both violin and chamber music prizes. During this time Eloisa-Fleur was a prize winner in the Kocian International Violin competition and the Remember Enescu Violin Competition. In 2006 Eloisa-Fleur received first prize in the Junior Academy Concerto Prize and performed Dvorak's Violin Concerto in A minor with the Symphony Orchestra. She has also enjoyed performing as soloist with many orchestras, including the Croydon Symphony Orchestra, Guildford Symphony Orchestra, Guildford Philharmonic, Reading Symphony Orchestra, Southern-Pro Musica Orchestra and West Forest Sinfonia.
Eloisa-Fleur has performed recitals at prestigious venues such as the Fairfield's Hall, St Martin-in-the-fields, Chichester Festival, Wigmore Hall and Kings Place. A highlight of Eloisa-Fleur's studies so far was performing the Sibelius Violin Concerto in a Masterclass with Maxim Vengerov, filmed by the Masterclass Media Foundation and released on DVD. She has also enjoyed masterclasses with Thomas Brandis, Aleksander Pavlovic, Tasmin Little and Sylvia Rosenburg.
Eloisa-Fleur is grateful for being awarded the Recommended Artist under Making Music's Philip & Dorothy Green Award scheme for 2010. Eloisa-Fleur is now as a post-graduate at the Royal Academy of Music and would like to thank the Musicians Benevolent Fund for awarding her the Emily English Scholarship, the Stephen Bell Charitable Trust, and The Countess of Munster Trust for their kind support.