Mae Heydorn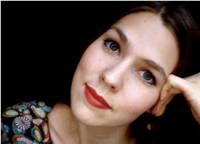 Mae Heydorn, a Swedish-German mezzo-soprano, is a post-graduate scholarship student at the Guildhall School of Music and Drama studying with Susan Waters and Rudolf Piernay.
She completed her B.Mus (Hons) at the Guildhall School of Music and Drama, achieving a First Class Degree, generously supported by the GSMD and the Anglo-Swedish Society.
In November 2009 a Messiah performance marked Mae's debut at Cadogan Hall with the English Chamber Orchestra. In February she won first prize at the British Schubert Society's Lied Duo Competition and she was selected for the Making Music Philip & Dorothy Green Award 2010.
During spring/summer 2010 Mae sang in Verdi's Macbeth in the Glyndebourne Festival Chorus and appeared as a soloist with the Southbank Synfonia for a performance of Britten's Phaedra.
Mae sings for Live Music Now! with her duo partner, pianist Diana Brekalo, working throughout the country to bring live music to the UK's welfare, educational, justice and health sectors. The duo were awarded a scholarship to study with eminent tenor Christoph Prégardien and have performed at the Internationales Musikfest in Stuttgart. In Spring 2009 they were finalists at the International Lied Student Duo Competition in the Netherlands. The duo creates workshops and performances for children at the Wigmore Hall.
In January and February 2011 Mae gave recitals with pianist Sholto Kynoch for Oxford Music and St. Martin in the Fields.
Mae is supported by the Anglo-Swedish Society.