Michael Foyle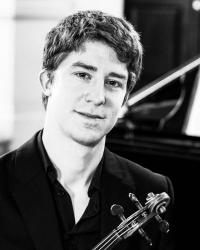 Praised for 'playing of compelling conviction' (The Daily Telegraph) and 'superlative, unwaveringly engaging performance' (Seen and Heard International), Michael Foyle won The 2016 Netherlands Violin Competition. His acclaimed performance of Szymanowksi's Violin Concerto No. 1 with the Rotterdam Philharmonic Orchestra led to an immediate invitation to give his début recital in The Concertgebouw, Amsterdam.
Born in 1991, Michael won the BBC Young Musician of the Year Tabor Award 2008, the Royal Overseas League String Prize 2013 and is currently a Making Music Young Concert Artist. He has performed concertos and recitals in Wigmore Hall, New York Chamber Music Festival, Great Hall of Moscow Conservatory, Estonia Concert Hall, Purcell Room and Buckingham Palace, as well as performing as Guest-Leader of the BBC Symphony Orchestra. In 2015, his duo with pianist Maksim Stsura won the Salieri-Zinetti International Chamber Music Competition in Italy and the Beethoven Piano Society of Europe Duo Competition in London.
Upon graduating from the Royal Academy of Music in 2015, Michael was awarded the Regency Award for Excellence and the Roth Prize for the highest violin mark of the year. He is completing his studies with a Certificate of Performance degree under Pavel Vernikov in Vienna Konservatorium.