Sue and Phoebe Butler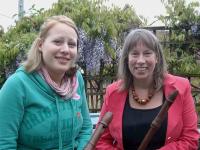 Sue was a student at Trinity College of Music where she studied viol, recorder and early music.  She has performed with distinguished viol players like Alison Crum.  Sue now teaches and advises in Buckinghamshire and Milton Keynes and has recently started some innovative work on teaching viol to children in schools.  A prodigiously gifted recorder player, Sue performs solo recitals and plays with baroque and renaissance groups in the area.
Sue's daughter, Phoebe, has been admitted to follow, from September, the same early music course that her mother followed at Trinity College of Music a couple of decades ago.  (Well, the course will have moved on - but it is the same named course.)  From September 2010 Phoebe is living, learning and breathing recorder playing as a student in the distinguished architecture of the old Royal Naval College at Greenwich.